Kitty TV: Mike Danner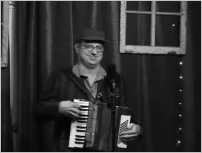 Miz Kitty's Parlour '06-'07 season starts today!
She's in a whole new house,
Imbibe
, in Southeast Portland. Here is a great original song from
Mike Danner
we recorded last year. Find out more about Mike at
http://accordiancrimes.com
and come see him perform with Trashcan Joe Tonight at Miz Kitty's Parlour.