The Red Rose Girls - Miner's Blues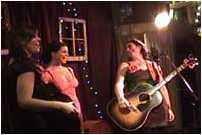 Pulling material from the Carter Family, Hazel and Alice and Doc Watson, The Red Rose Girls make these great works their own. Powerful singing is the hallmark of the band so it is easy to overlook the secret ingredient that makes these girls even more unique.
With only two guitars and limited hand percussion, they manage to lay down strong rhythms underneath the old songs that range from fierce and primal to trance-like. From the October 15, 2005 show.