The Reverend Loren Hoskins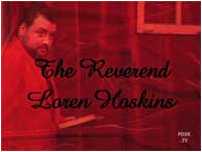 It's Sunday morning on Saturday night when Loren Hoskins preaches to the sinners congregated at Miz Kitty's Parlour.
Fine comedy from one of Stumptown's most wonderfully warped minds! Don't miss this video clip from the November 19, 2005 Miz Kitty's Parlour Revue. It's video iPod ready. Amen!