Caleb Klauder - Singer Songwriter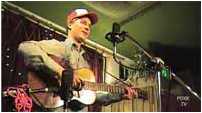 This Singer Songwriter shows off his new song and his new hat! "Former Calobo co-leader Caleb Klauder turns out to be a singer-songwriter with a rich country-flavored voice that sounds like Townes Van Zandt one minute and Doug Sahm the next. His simple (but not simpleminded) honkytonk ditties could easily coax half the bar into that city cowboy shuffling-waltz thing they call dancing these days." -­ Willamette Week.
From the March 18, 2006 show.